QUAD A CHICAGO is Alchoholics Anonymous for Atheists and Agnostics.........and anyone else!
Quad A has been meeting continuously for over 35 years in Chicago
CLICK HERE for a FLYER with more background about Quad A
QUAD A
What Is Quad-A?
A.A. Members, especially newcomers, are urged to attend various meetings to find the meetings that are the most helpful to them. All A.A. Meetings have their own special characteristics. Quad-A is the most common reference for group meetings attended mostly by atheists, agnostics, and humanists; however, anyone with a desire to stop drinking is welcome.
Quad-A meetings function no differently than other A.A. Meetings—allowing recovering alcoholics to gather on a regular basis as autonomous groups using the suggested Twelve Steps for the individual and the Twelve Traditions for the group as the foundation for recovery and spiritual growth. We share and learn how to live sober and rewarding lives. Like all A.A. Meetings, Quad-A meetings are for all people with a desire to stop drinking. There are no further qualifiers or disqualifiers
"To us, the Realm of Spirit is broad, roomy, all inclusive; never exclusive or forbidding to those who earnestly seek. It is open, we believe, to all..." (Alcoholics Anonymous, p. 46).
Quad-A acknowledges recovering persons may have a valid and fulfilling sobriety with or without belief in a Higher Power as traditionally understood. For many regular Quad-A meeting-goers, the "Power greater than ourselves" and "God as we understood Him" are interpreted by the individual or ignored altogether. For some of us, it is A.A. itself or the group. Our members have been reared with and without many different forms of religious training; we prefer to refrain from proselytizing for or against any particular creed. We accept the beliefs of the individual without contempt, condescension, or approbation.
Chicagoland Quad A Meetings:
Sundays 5 pm, We Agnostics meet in the Library of Unitarian Universalist Church, 4848 Turner St., Rockford IL
Sundays 7 pm, Gale House 124 N Kenilworth Oak Park, IL (first Sunday of each month is an OPEN MEETING)
Sundays 7 pm, McGaw YMCA, 1000 Grove St, Evanston, IL Open meeting.
Mondays, 7 pm, Alano Club of the Northside 5555 N. Lincoln Ave, Chicago, IL (first Monday each month -OPEN MEETING)
Mondays, 7 pm, Elgin Atheists, Agnostics and Everyone; Presence Saint Joseph Hosp.,77 N. Airlite St., Saint Mary room, Elgin, Il

Tuesday 6:30 pm, 2nd Unitarian Church, 656 W Barry, Chicago, IL
Wednesday 7 pm, Hyde Park AAAA Hyde Park Union Church, 5600 S Woodlawn, Chicago, IL
Wednesday 7 pm, NW Suburban Quad A, Schaumburg Public Library, 130 S Roselle Rd, Schaumburg, IL
Thursday 12 Noon, New Hope Recovery Center, 2835 N Sheffield Ave #308. Chicago, IL
Thursday 6:45 pm, Atheists, Agnostics & Everyone, Room 9 in the Sunset Knoll Fitness Center, 820 S. Finley Road, Lombard, IL (first Thursday each month -OPEN MEETING)
Thursday 7 pm, West Suburban Medical Center, 3 Erie Ct, Room C & D, Oak Park, IL
Thursday 7 pm, McGaw YMCA, 1000 Grove St, Evanston, IL Open meeting.
Saturday 11:15 am, AA Humanist Atheists & Agnostics, United Church, 615 W Wellington, Chicago, IL
Saturday Free Spirit 4:15 pm Agnostics, Atheists & Anyone Else, United Church, 615 W Wellington, Chicago, IL
MEMBERS OF QUAD A GROUPS- PLEASE CHECK THE ABOVE FOR ACCURACY AND REPORT ANY NECESSARY CHANGES HERE
NOTE- it may require a little searching to find the door or other location-related "tricks" to find some of these meetings. Some meetings are buried in church basements, others may require a little exploration to find the right room. Just remember - you could always manage to find your way to a drink, so use the same perseverance when trying to find where the meeting is at the address listed.
HERE ARE SOME HINTS FOR FINDING SPECIFIC MEETINGS:
The Tuesday 6:30 meeting at 2nd Unitarian on Barry st - you cannot enter through the main church entrance along the east side of the building; you have to enter through the outside basement door, which is down an outdoor stair at the front on the building. If the door is locked at 6:30 on a Tuesday, BEAT on the door so someone from the meeting will hear you and open the door.
-OTHER MEETINGS- please let me know how to find your meeting rooms and I will post it here.
---
In August, the Third International Conference of Secular AA will be held in Toronto-
Let's send a Quad-A
Chicago delegation!
A great weekend of sobriety, fellowship, and renewal!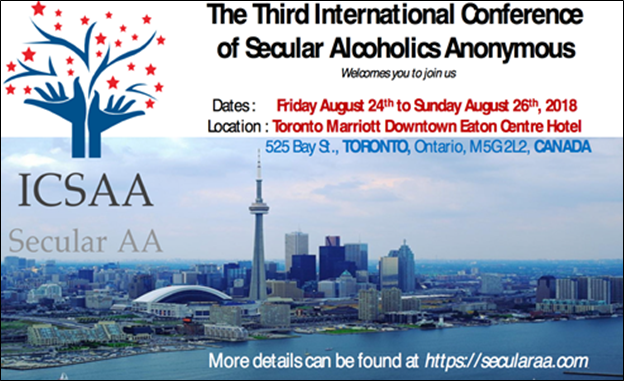 The conference details can be found at https://secularaa.com and the registration page for both the conference, and the discounted-rate Marriott hotel rooms, are accessed at https://secularaa.com/registration.
For more details: Chuck Kramer chuckkramer6167@yahoo.com
Click HERE for a printable version of our Conference flyer
---
What is the difference between an OPEN meeting and a CLOSED meeting?
A meeting designated as CLOSED is for people who know, or suspect, they have a problem with alcohol and/or drugs and are seeking recovery. If you think you may have a problem with alcohol, you are welcome to attend any meeting, including closed meetings, to see if AA is right for you. Closed meetings are for people who are looking for a solution to their own problems as they relate to alcohol and other drug addictions.
An OPEN meeting is a meeting that ANYONE can attend - spouses, family, students of nursing, psychology, social work, etc who want to know more about the AA recovery process, or ANYONE curious about AA- all these are welcome at an open meeting.
---
-LINKS-
http://agnosticaanyc.org/  Link to a non-religious AA group in New York City, with listings of many agnostic and atheist AA meetings throughout the USA!
http://aaagnostica.org/ A GREAT magazine style site with articles and information of particular interest to skeptics, nonbeleivers, atheists and agnostics in AA
http://www.aabeyondbelief Another magazine-style site with interesting articles
www.waaftiaac.org We Agnostics Atheists and Freethinkers In A A -November 11 through 13th 2016 International Agnostic / Atheist convention in Austin, Texas!
https://secularaa.org/ Secular AA links, articles and more

---
-Quad A Library-
HERE is another Quad A flyer, from the Schaumburg group.
Click HERE for a collection of documents we've put together which you may find interesting or useful
HERE you will find some history of the atheist / agnostic meetings in Chicago that are collectively known as "Quad A"
---
YES THIS IS AN AWFULLY PLAIN LOOKING WEBSITE. It's purposely designed to be super-easy to edit, so someone with only a minimum of HTML skills can maintain it.