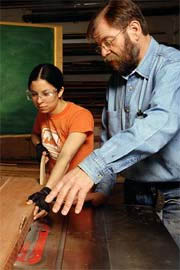 Berthold Schwaiger
Biography
Please note that since the unexpected death in late 2006 of founder Berthold Schwaiger, the Chicago Bauhaus Studios, Inc. and Chicago Bauhaus Academy NFP have ceased to exist, having been closed by the surviving corporate board members.
The Bauhaus Woodshop NFP was a new entity which built on the foundation laid down by this great artist, and offered community classes until 2010. No aspect of Chicago Bauhaus Studios, Chicago Bauhaus Academy or Bauhaus Woodshop is currently active in any way.
If we can find sufficient support and volunteers, a more developed Memorial to the man and his art will be presented here. Until then, we provide the Biography below, the one he used on his site when he was still with us.
------------------------------------------------------------------
The award-winning furniture of master craftsman and artist Berthold Schwaiger is known for its complex engineering, elegant design and premier craftsmanship. His designs allow the natural beauty of the wood to reign, displaying an even flow of wood grain throughout each piece and relying on his complex methods of joinery to lend beauty and rugged durability. All pieces produced for clients are designed and engineered by Schwaiger, and produced by apprentices under his careful guidance, maintaining his rigorous quality standards. Schwaiger's designs have twice been selected from a field of 1200 entrants to receive the national Design Journal ADEX award.
Academy President and teaching master Berthold Schwaiger has 40 years of experience as a designer and builder of exquisite fine art furniture. As a youth, he served as an apprentice and journeyman for many years in Germany through the European guild system, and he later studied design and architecture in Cologne and Berlin. His work is featured in homes and businesses throughout the country and has been displayed in numerous art galleries. Schwaiger, who is known for the inventive and complex engineering of his work, is winner of Niche magazine's Niche Award for his Schwaiger Chair, and has twice been selected from a field of 1200 entries as the recipient of the Design Journal gold medal ADEX award. In addition to founding the Bauhaus Apprenticeship Institute, Berthold Schwaiger is the founder of The Chicago Furniture Society and The Artisan's Gallery.
PLEASE NOTE: BERTHOLD SCHWAIGER DIED UNEXPECTEDLY ON DECEMBER 13, 2006
ALL OF US MOURN HIS PASSAGE